A thief caught in the act
This week I took a trip down to the southern suburbs of Cape Town.
While taking some pictures of Camel Rock I decided to take some of the houses built along the hillside.
The first picture shows the thief climbing over the wall
(bottom right hand corner) with his loot in his hand.

This next picture shows the thief eating his loot.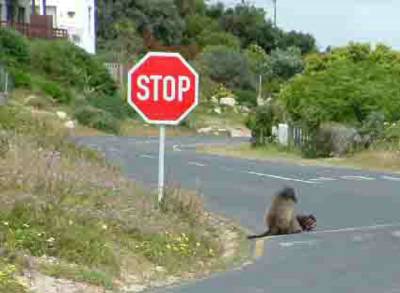 This baboon is one of the many Chacma baboons that descend on the villages in the southern Peninsula.
They break into houses, open fridges and help themselves and generally make an unholy mess.
I lived in the Kommetjie area for years and in that time never saw a baboon in the village.
Urban spread and fires have caused the baboons to move down off the mountains and into the villages where easy pickings of food are to be had.
Every now and again somebody corners one and either injures it or kills it.
There is always a hue and cry when this happens.
What should one do about these nuisance animals.
If they want something, they walk up and take it and should you refuse to give it to them they get aggressive.
Whatever it is is soon discarded when the baboon finds it is not food.
Turtle Essays ezine no 110 has been published.
To get it
Click here
Geoff Fairman
**
**
Web Counter